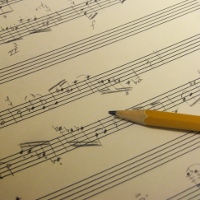 Lessons in Writing Music
Whether you have dabbled in composing, songwriting or arranging, or if you have never even considered that you could write music before now, you've come to the right place. Whatever ability you may currently have, I can help you gain new skills, and refine your compositional voice no matter what type of music you want to write.
The only prerequisite is that you can play an instrument (any skill level), and have at least basic music reading skills.
Beginner
Beginners in writing music will learn the basics of melody, harmony and form, and will work on composing assignments that will lead to the creation of a complete song that is uniquely yours.
Intermediate
Intermediate students will continue to work on melody and harmony writing skills, and will also learn counterpoint and orchestration/arranging. These skills will be taught through work on your own compositions, with guidelines from the instructor.
Advanced
Advanced students will focus on challenges in larger compositions. These lessons are designed to focus on what your projects need. Even composers with college degrees can benefit from these lessons, since an extra pair of eyes can help you find problems or errors you may not be able to find on your own.
Lessons happen in studio or via Skype or Google chat.
Schedule a Lesson
Your initial consultation with the instructor is free. Use the button below to schedule a lesson on BookFresh. You will be taken to a site where you can select the day and time you would like to meet. The times shown are the available times. If none of the times shown work for you, call me and we'll work something out!