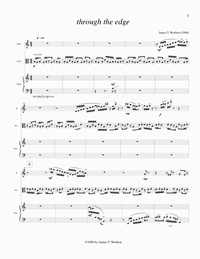 Work Details
through the edge
for flute, viola, harp
1998
(dur.: c. 5:00)

Listen!
The title of the work comes from a remark made by a sheep herder in Romania (from Ed Vulliamy, "Romania's new day," National Geographic, Sept. 1998, 44):
"The sheep move through the forest in silence, spectral in the mist. Finally we pass the tree line, out through driving snow onto a barren expanse where the wind bites and the horizon is lost. Mircea [Costache]'s description is apt: 'Here we go through the edge and out into the empty.'"
At its roots, this piece is a light-hearted look at boundaries, particularly in its form, pitch material and in its relationship to geometry. The form was conceived as a five-part arch, in which the boundaries between sections are blurred--sometimes to the point of nonexistence. Tonally, the language ranges from modal to twelve-tone while still maintaining a sense of coherence. All of this is influenced by the Golden Proportion.
The recording is from the premiere performance at the University of North Texas, December, 1998.