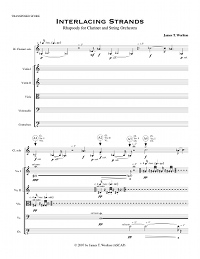 Work Details
Interlacing Strands
for clarinet and strings
2005, rev. 2007
(dur.: c. 12:00)

Listen!
Interlacing Strands, subtitled Rhapsody for Clarinet and String Orchestra, interweaves rich, unmetered rhythmic textures with more traditionally metered music. The title of the work reflects this relationship, as well as the interplay between the soloist and the orchestra, and the alternating serious and playful moods of the music. Harmonically, the work is neither atonal nor tonal, but somewhere in between. The work was written between November 2004 and January 2005, and revised in 2007.
The recording is of a reading that took place at the University of North Texas on Dec. 1, 2010. The clarinet soloist was Jim Parkinson, and the strings of the UNT Symphony Orchestra were conducted by Chao Li. Thanks to Professor David Itkin and Dr. Clay Couturiaux, Director and Assistant Director of Orchestral Studies at UNT, and to Dr. Joseph Klein, Composition Division Chair, for arranging this event.